Finding and treating developmental delays early can have a huge impact on children and their families. Children who are screened early and receive early intervention services show improved social and cognitive skills and have higher academic achievement than children who do not receive services. Identifying a delay and intervening early can also reduce the need for special education services later in a child's life. Investments in quality early identification and intervention saves money in the long-term by reducing or eliminating the costs of special education services, grade repetition, child welfare, and juvenile justice. In addition, there are gains that are more difficult to put a price on, such as the improved wellbeing of children and families that comes from mitigating delays and associated hardships.
A developmental delay means a child does not meet age-appropriate developmental milestones, i.e. functional or specific tasks that most children can do at a certain age. Some children with developmental delays begin showing obvious signs early on. Other children exhibit more subtle signs that can be easy to miss, which is why early identification and intervention are so important. When early childhood providers monitor and screen children's development, it provides an opportunity to talk with families about shared treatment goals and resource needs, as well as identify developmental delays and concerns early.
To this end, First 5 LA has funded the First Connections program since 2014 to promote innovative approaches to embed developmental screening and strengthen referral processes across the practices of six community-based agencies (three Federally Qualified Health Centers, two family serving agencies, and one regional center) in Los Angeles County. An essential component of the program is reaching underserved communities to ensure equitable access to developmental information and resources. As First Connections evolves, we are harnessing the many learnings, promising practices, and accomplishments achieved by our partners to inform the planning and implementation of Help Me Grow in L.A. County. Help Me Grow LA assists families in finding services that can support their child's development, in part by improving the coordination of programs and services in local communities. First 5 LA and the Los Angeles County Department of Public Health are joining with partners to make sure all children get connected to the services they need.
Part of this effort is the development of a series of free toolkits that provides a practical guide for agencies to implement or refine a high-quality approach to embedding developmental screening and linkage within their programs and organizations. Developed by the University of Southern California University Center for Excellence in Developmental Disabilities at Children's Hospital Los Angeles – the training and technical assistance provider to First Connections – these toolkits include steps for forming an implementation team; setting goals; developing a screening and workflow plan; identifying referral sources and strategies for linkage to community resources; training materials for staff; quality improvement tools; and resources for navigating the service system, all of which can be tailored to the needs of different agencies. Toolkits for Pediatric Medical Clinics and Family Serving Agencies have already been released, and a toolkit for Family Resource Centers will be released later this year.
The free toolkits comprise 11 steps across three phases of implementation: 1) Plan (assemble implementation team; develop goals, screening plan, workflows, and timeline; learn about screening in the context of developmental conversations); 2) Launch (develop and implement staff and provider training plan; launch screening); and 3) Evaluate, Refine, Spread, and Sustain (quality improvement tracking; train the trainer; spread to other clinic sites).
Since First Connections was established, there have been several key advancements in state policy that support early identification and intervention, and First 5 LA has been a key partner in supporting policy and system change at the local and state levels. With its partners, First 5 LA has led an effort over the past six years to increase the rate of developmental screenings for young children in L.A. County by sponsoring legislation such as Assembly Bill No. 1004 on developmental screening services. Most recently, we have been supporting education on Proposition 56, which funds an incentive payment of $59.90 per developmental screening for providers of children enrolled in Medi-Cal. Our new developmental screening and referral toolkits are an opportunity for health providers to establish developmental screening or maximize existing screening practices to benefit from these available funds, as well as ensure that children and their families are connected to necessary resources as soon as possible. We invite you to use the toolkits and make them your own.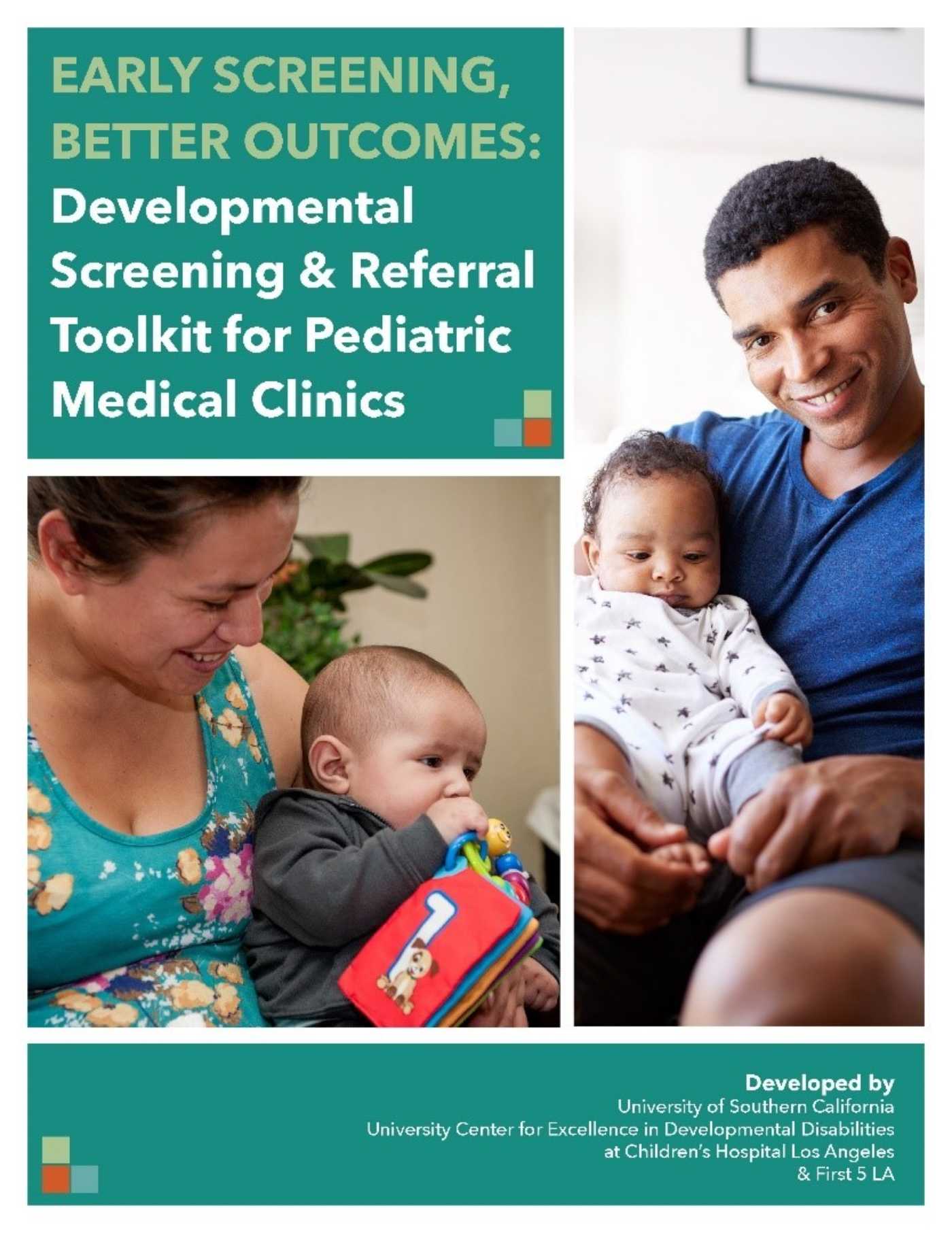 Ann M. Isbell formally joined the First 5 LA family in 2018 after years of experience as a grantee. She is a Program Officer in the Health Systems Team supporting First 5 LA's efforts to strengthen early identification and intervention systems and trauma-informed approaches in L.A. County. Dr. Isbell has over 15 years of experience working with partners in early childhood program planning, implementation, and evaluation.