The pandemic impacted access to preventive care for many Californians, especially in the year 2020. New data released from the Department of Health Care Services shows how children in Medi-Cal managed care fared that year, and just how far we will need to increase preventive service delivery to ensure children receive all the benefits to which they are entitled. These data also serve as a baseline for the Department as it strives toward its goals of improved health care access and equity.
Access to developmental screening, well-child visits, lead screening, and immunizations are critically important indicators of child well-being during the period of intensive brain development in the first years of life. These essential preventive services ensure that a child is set up for healthy outcomes and that families can be connected to supports as early as possible. However, California's persistent poor performance in these areas was made worse by the pandemic, leading to long-term negative effects. For example, when developmental delays are not identified in the first three years of life, children can miss out on early intervention developmental services. Children's brains are less adaptable as they grow, and late intervention can make their developmental trajectory harder to change. They may enter kindergarten less ready to learn and in need of additional services at a cost to the K-12 system.
The second annual DHCS Preventive Services Report was recently released and includes 20 indicators of preventive service use by children enrolled in Medi-Cal managed care. It overviews regional and demographic trends including race/ethnicity, primary language, gender, and age. Below is an overview of key indicators related to early childhood included in the report. These data suggest California must pay special attention to infants and toddlers in its efforts to improve care for children overall.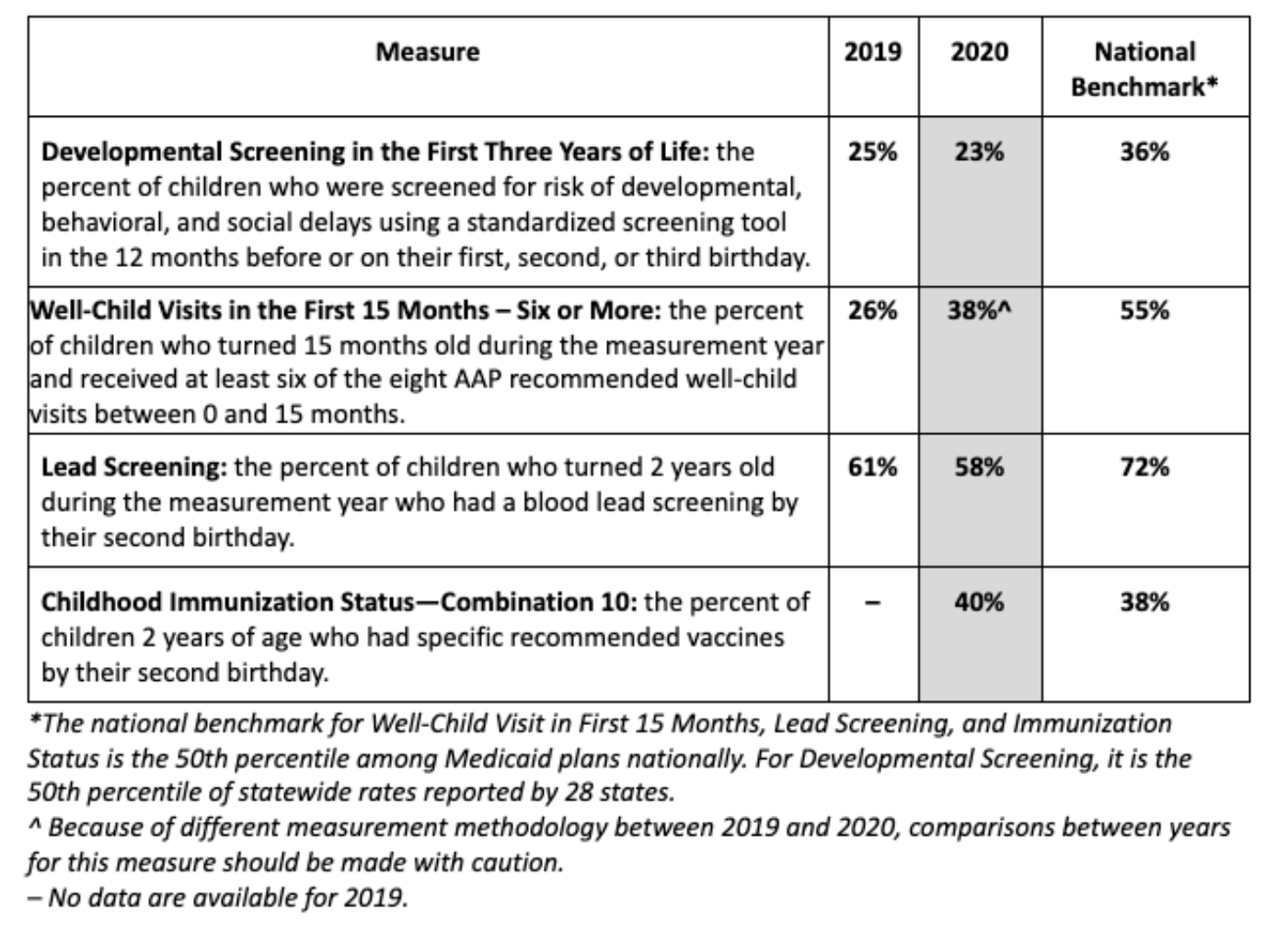 A decline in plan performance between 2019 and 2020 impacted certain racial/ethnic groups and primary languages disproportionately, on top of disparities in rates that already existed. This indicates that managed care plans need to specifically improve how they outreach and provide care to families of color. For example, in 2020 developmental screening rates were significantly lower among American Indian/Alaska Native and Black children. In addition, well-child visit rates in the first 15 months of life were significantly lower among American Indian or Alaska Native, Black, and Native Hawaiian children. See the charts below from the 2021 Preventive Services Report for current disparities in well-child visit and immunization rates.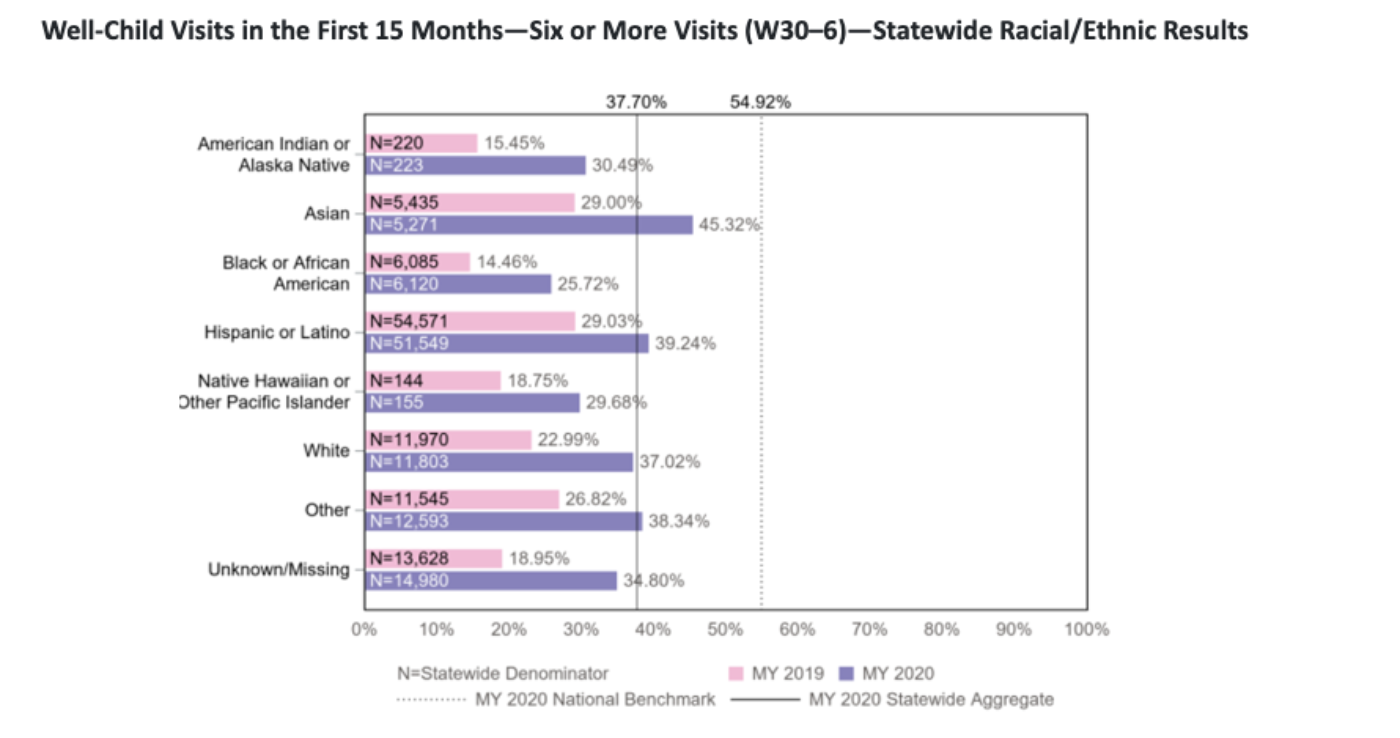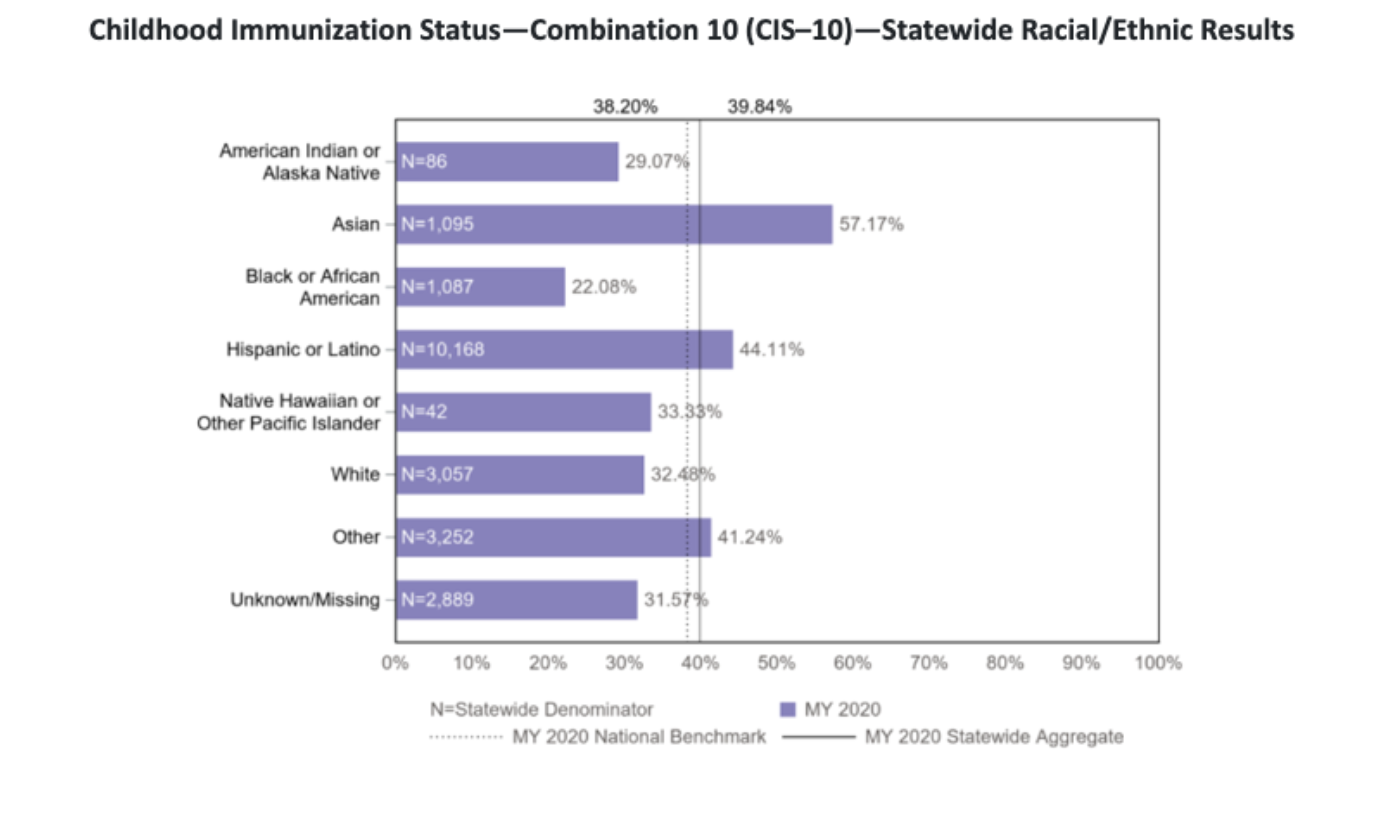 DHCS released its first Preventive Services Report in 2020 in response to a 2019 California State Auditor Report that found millions of children do not receive all the preventive services they are entitled to. The goal of sharing this data is to help MCPs improve how they care for the state's most vulnerable children.
In addition to better reporting, the state is also embarking on multiple efforts to transform the way health care is delivered in the Medi-Cal program and to boost preventive care for children. Of particular note is the Comprehensive Quality Strategy (CQS), a strategic planning document that plans improvements to the quality and equity of Medi-Cal health care. The CQS has a focus on children's preventive care and lays out goals to close racial/ethnic disparities in well-child visits and immunizations by 50% and ensure all managed care plans exceed the 50th percentile for children's preventive care measures by 2025.
The Department has dubbed this initiative "Bold Goals: 50x2025." Given how far we'll have to go to reach these metrics, the goals are certainly ambitious and achieving them will rely on the successful implementation of many other new Medi-Cal benefits such as Community Health Workers, Doulas, and Dyadic Care. It will also require Medi-Cal managed care plans operate in deeper partnership with community partners like First 5s, encouraged through these benefits, reprocurement, and CalAIM.
Across the state, First 5s implement evidence-based wellness and prevention strategies for young children. For example, First 5 Santa Cruz administers the Baby Gateway Newborn Enrollment Program. Through this program, Baby Gateway Newborn Enrollment Coordinators visit all birthing parents who deliver at local hospitals to offer referrals and resources. Newborn Enrollment Coordinators assist with enrolling newborns into Medi-Cal, adding the newborn to the family's existing CalFresh case, connecting the newborn to a Primary Care Physician, and helping new parents make their baby's first well-child appointment. Through programs like this one, First 5s can be a powerful partner to Medi-Cal managed care plans to improve outcomes for children, and help DHCS meet its bold goals.